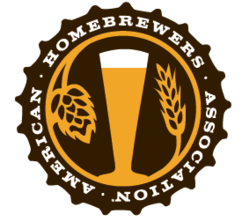 Here's the release from the American Homebrewers Association (AHA):

The American Homebrewers Association (AHA) is excited to present a new logo to represent the organization. The AHA's most recent logo was more than a decade old, and the time was right to freshen up the look and feel to reflect the fun and passion for homebrewing found in the AHA membership and the hobby as a whole.

The new logo incorporates several graphic elements that represent the fundamentals of the hobby, including a hop cone, a barley stalk and a tall glass of beer, on a circular background that evokes the shape of a bottle cap. AHA Director Gary Glass explains the design process: "It wasn't easy, and the AHA staff and our graphic design team took the redesign seriously. We're thrilled with this new visual representation of the AHA, our members and the broader homebrewing community."