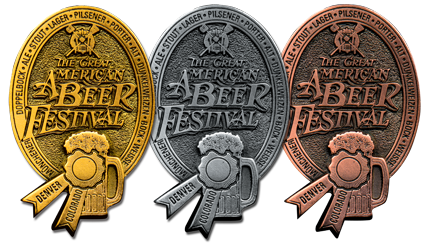 The annual
Great American Craft Beer Festival
wrapped up over the weekend, and a Gold, Silver, and Bronze medals went to three different Massachusetts craft breweries for their entries.
Jack's Abby Brewing
, out of Framingham, MA took home a bronze medal for their
Smoke & Dagger Black Lager
in the "Other Smoke Beer" category. This is one of my favorites from Jack's Abby, and is one you should definitely check out!
Cambridge Brewing Company
, a brewpub located in Cambridge, MA earned a silver medal for their CBC
Heather Ale
in the "Herb and Spice Beer" category. I've had many beers by CBC, but I can't say I've had this one yet. From the description on the CBC website, it sounds like a great beer! It has to be to earn a medal at GABF!
Finally,
Cisco Brewers
out of Nantucket, MA took home a gold medal thanks to
Lady Of The Woods
, an oak barrel aged wild ale in the "Wood and Barrel Aged Sour Beer" category. This is another one I have yet to try, but will be picking it up soon.
Congratulations to these fine Massachusetts breweries on taking home their medals at the 2012 Great American Beer Festival!